INTRODUCING FREE GIFTS FOR YOU!
This page is where we will provide free downloadable PDF's with recommended tools, guidance or hints and tips which you may find useful.
Please keep checking this page for updates or alternatively sign up to be notified automatically!
21-Day Self-Love Challenge
Free Workbook & Affirmation Video Access
Free Printable Affirmation Cards
FIND OUT MORE ABOUT THESE FREE GIFTS BELOW:
FREE GIFT - SLEEP ROUTIne WorKbooK & TRACKER
Are you ready to get a better sleep? By tracking and analysing your sleep routine you may be able implement improved sleeping patterns.
We are offering this helpful PDF download completely free!
Give our Sleep Routine Workbook and Tracker a try!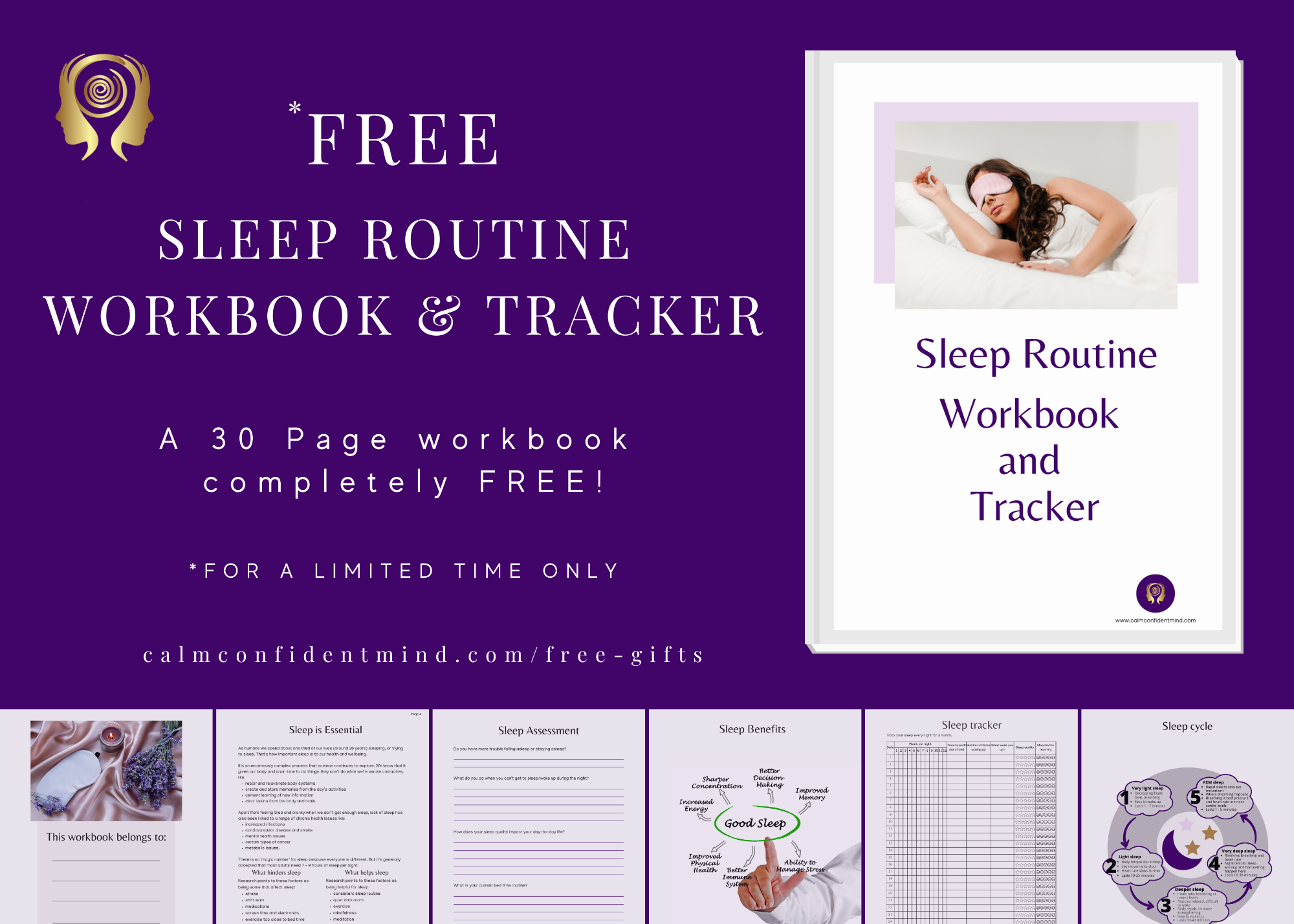 sleep routine workbook & Tracker (PDF)
Do you want to better understand and improve your sleep routine?
Maybe you have tried lots of different things to help improve your sleep and do not understand why it is not helping? Then it may help to assess your sleep routine using a sleep tracker. To help you to better understand what does or does not work well for you. Your very own 30-page Sleep Routine Workbook and Tracker downloadable PDF offered to you absolutely FREE!
Hurry as this is only available for a limited time!
GET YOUR FREE SLEEP WORKBOOK & Tracker NOW!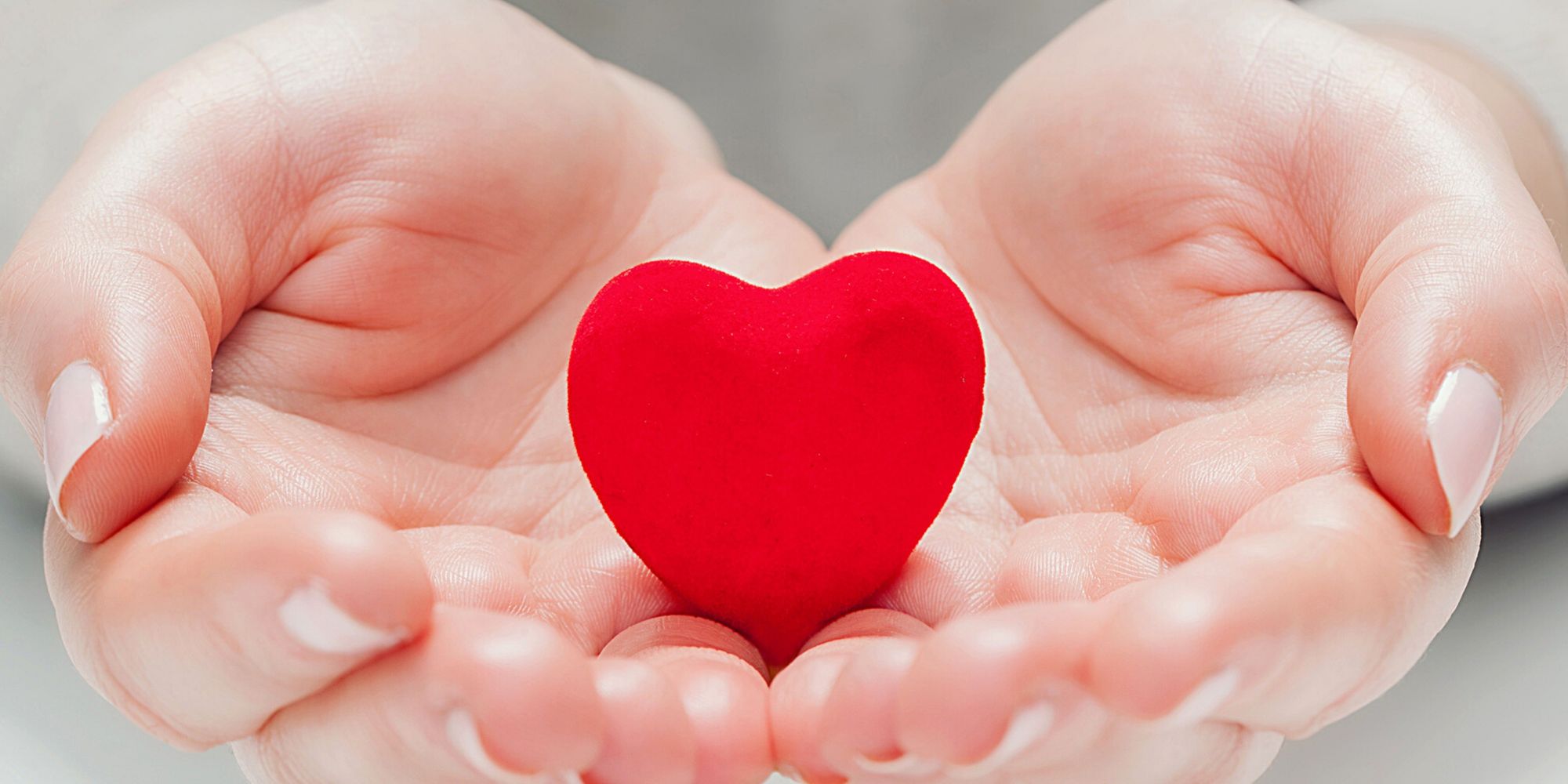 21 day challenge Self-love workbook
Experience a boost in self-confidence and love for yourself with our self-love workbook, complete with helpful hints, gratitude journalling, and affirmations. Take advantage of our free gift and start your journey towards a more positive self-image.
Download our Self-Love workbook today!
Self-love can lead to greater happiness and fulfillment in life. When you love and accept yourself, you are more likely to pursue your passions, embrace your uniqueness, and live authentically.
If you're struggling with low self-confidence and self-esteem, get a free copy of our Self-Love workbook. This workbook is packed with practical exercises and tips to help you boost your confidence and feel better about yourself.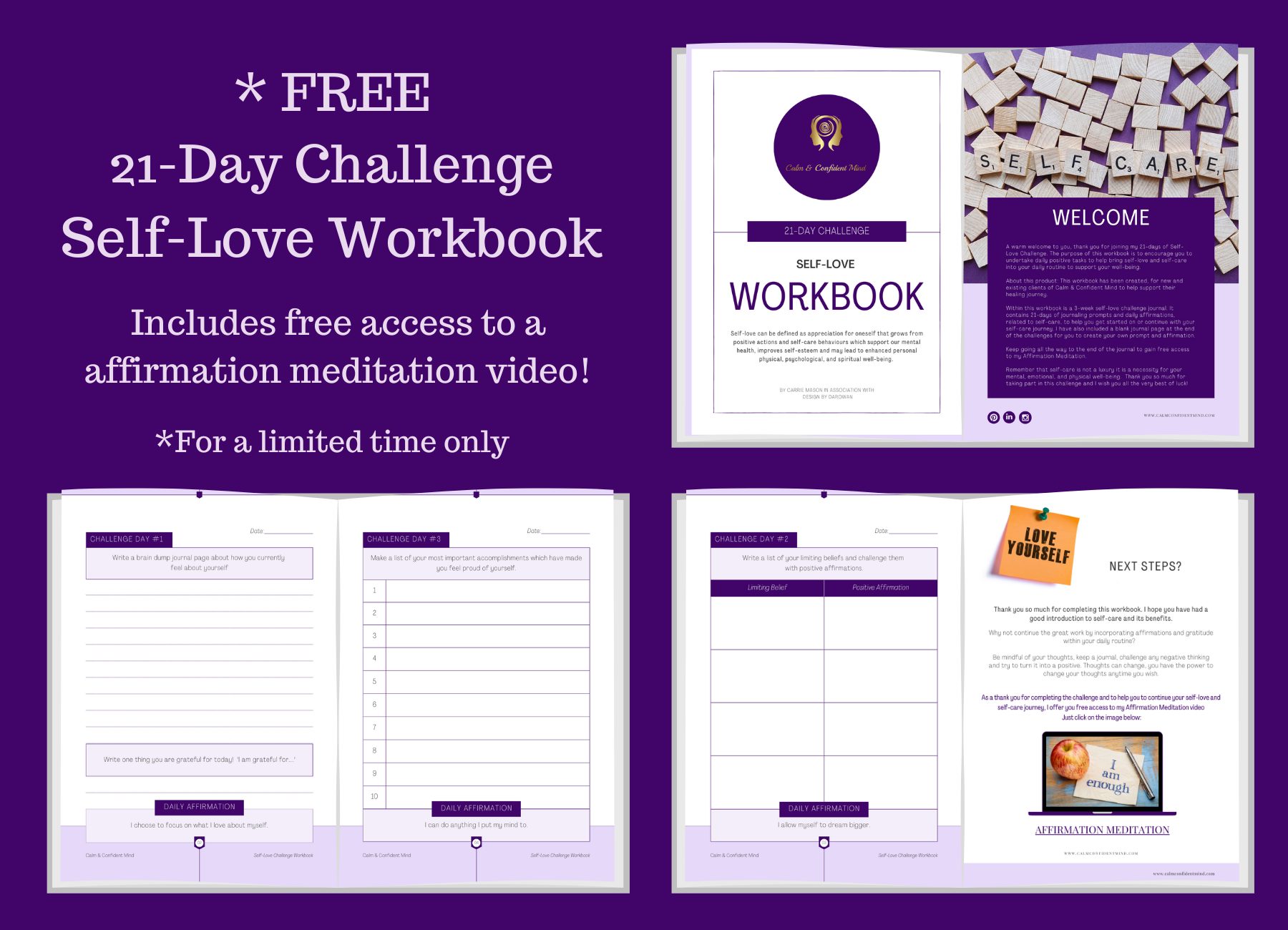 GET YOUR FREE self-love WORKBOOK NOW!
FREE GIFT - 21 printable Affirmation Cards
With these affirmation cards, you can start each day with a positive mindset and face the world with confidence!
Best of all, these cards are completely free! Whether you're looking for a quick pick-me-up or a daily dose of inspiration, our free affirmation cards are the perfect addition to your self-care routine.
Read our affirmation cards daily and they may help you to:
Boost your self-esteem and confidence
Practice self-love and self-care
Cultivate a positive mindset
Overcome negative self-talk
So why wait? Sign up to download them and start using our affirmation cards today and experience the power of positive thought!
We are offering this Affirmation Cards PDF download completely free!
Give our 21 Printable Affirmations a try!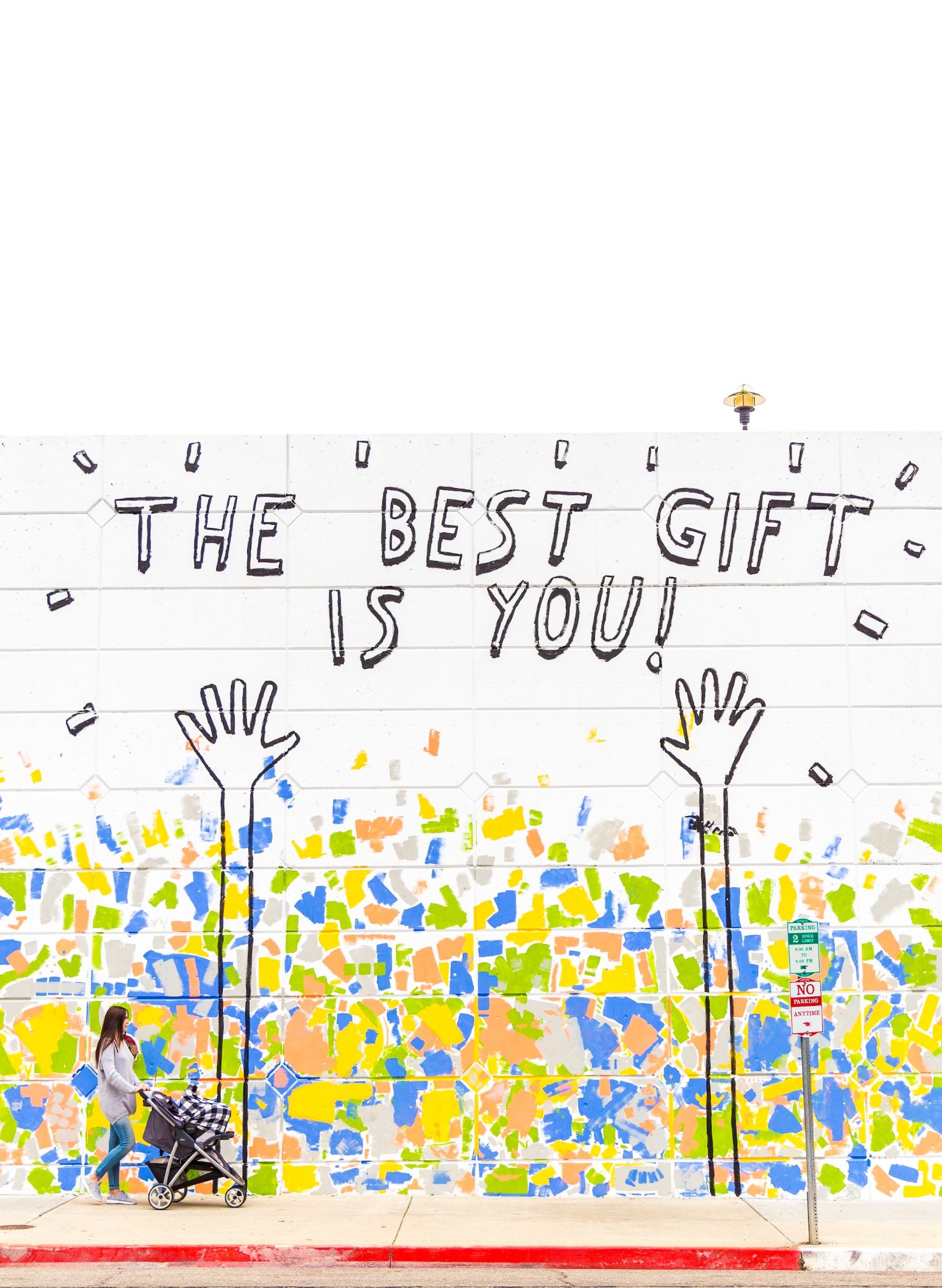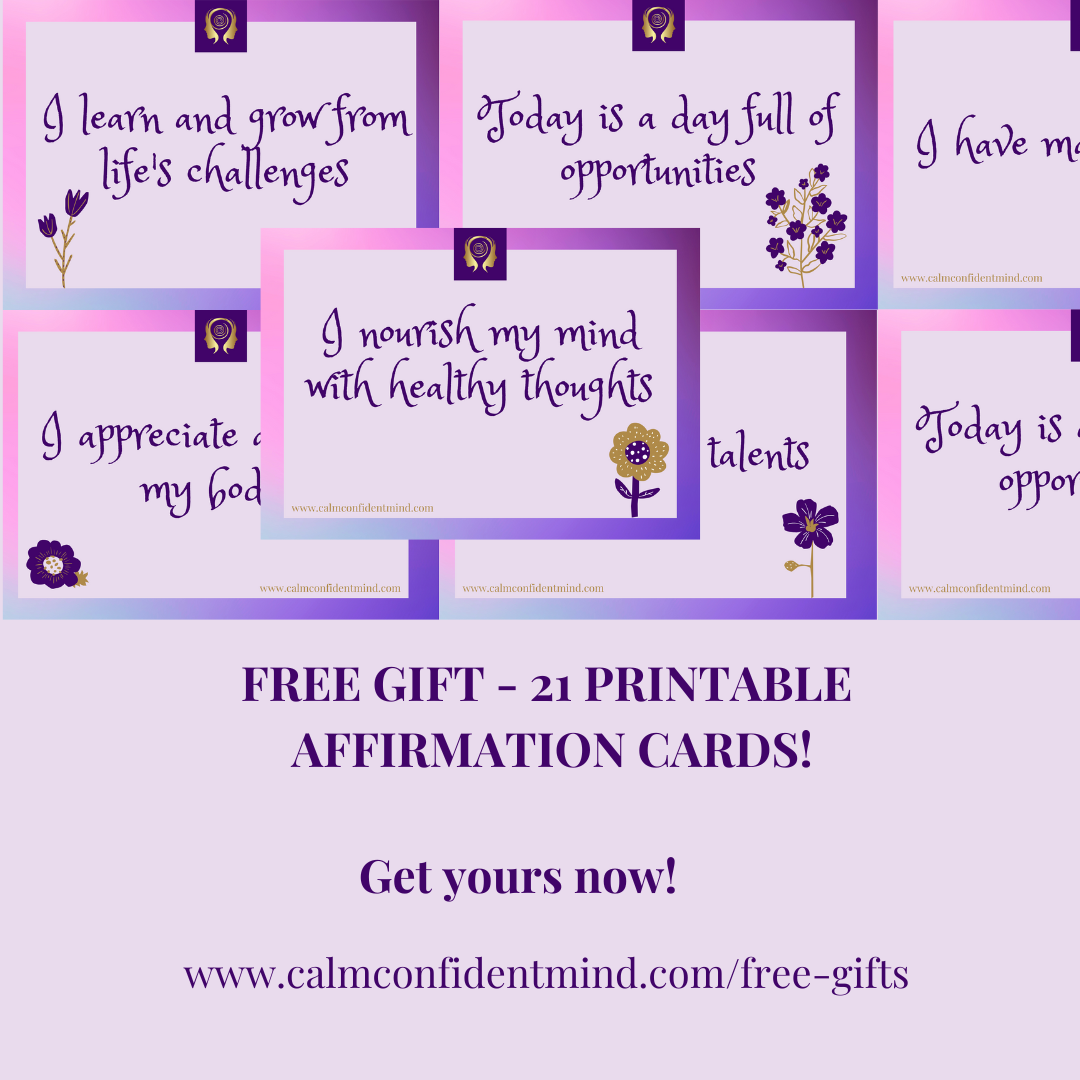 21 printable Affirmation Cards (PDF)
Do you want to show yourself some love? Build self-esteem and self-confidence?
Maybe your mind is full of lots of negative self talk?
Well it is time to take control and to have positive thoughts. Get your very own Affirmation Cards in a downloadable PDF offered to you absolutely FREE!
GET YOUR FREE downloadable affirmation cards NOW!
Important Note - The services offered are classed as complementary therapy. Our therapist is not a licensed physician, psychologist, or medical practitioner of any kind and the services offered are not a substitute for a psychiatrist, psychologist, doctor or medical professional or medical treatment of any kind. You will never be asked to reduce change or stop your existing medical prescription. We will never offer specific advice on, diagnosis or treatment for conditions for which medical supervision should be sought, unless that advice, diagnosis or treatment is under the supervision of a suitably qualified medical professional. We cannot and do not guarantee results as much depends on the clients own involvement, motivation and willingness to achieve the desired outcome and to complete set tasks.
Please note that our therapist will operate within her scope of practice. Please do not take it personally if on occasion the therapist considers it necessary to refuse to offer therapy for specific presenting issues and/or areas of concern. Instead, our therapist may suggest you seek treatment from a specialist in that particular field.